Win Stuff
Have you seen the new quiz questions for prizes at Glamourcon? Check It Out

Are You A Vendor?
If you would like ShopGlamourcon to carry your product, please contact Bob - bob@shopglamourcon.com


Glamour & Pinup Art & Collectibles - The Store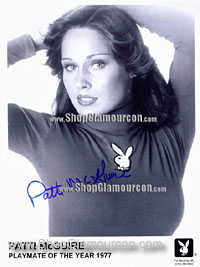 Fresh New Batch Of Glamour!! New Items Added 12/06/2009
A new pile of pretty stuff just arrived from this year's Glamourcons. GC47 Chicago and GC48 Los Angeles contributed some new tiems to the stock. All of the new items are autographed model prints and headshots.
Check out all the new items.




ShopGlamourcon Emphasizes Autographs & Personalization
At ShopGlamourcon it's all about the Signatures, Autographs and Personalization. We get the items directly from the Playmates, Models and Celebrities you most desire. The unique access ShopGlamourcon enjoys, allows us to pass on the very best and guaranteed authentic merchandize directly to you, the fan. Check the store out!


A Wide Selections of Glamour Items
While we strive for items with autographs, we also hunt for a wide selection. One of the most popular items are the Autographed Headshot & Model Prints. These beautiful images are direct from the Playmate or Model to ensure their quality and authenticity.




ShopGlamourcon features Original Art and Fine Art Prints
Glamour - The Allure of Beauty. Many have tried to capture it but only a few have succeeded. ShopGlamourcon is working hard to gather an incredible selection of original pieces and fine art prints from top vintage and modern glamour/pinup artists. These artists have truly succeeded in capturing the Art of Glamour and Pinup! Bookmark this page as more artists will be added soon.

Artists

Dave Nestler
Gina King
Holly Randall
Jennifer Spear
Pete Tapang
Todd Borenstein
---
Models or Celebs

Akira Lane
Alyssa Moore
Anna-Lee Jackson
Audra Lynn
Bridget Marquardt
Candance Kita
Chanel Ryan
Chistina Smith
Christine Mendoza
Colleen Shannon
Colleen Shannon
Cynthia Hall
Deauxma
Debi Nicolle Johnson
Debra Jo Fondren
Dianne Chandler
Dulcie Younger
Genevieve Gallen
Ginger Jolie
Heather Carolin
Holly Madison
Jamie Michelle
Janet Lupo
Jasmine Grey
Jelena Jensen
Jenna Magen
Julie Cialini
Julie Simone
Julie Strain
Justine Joli
Kelle Marie
Kendra Wilkinson
Kimberly Holland
Kira Reed
Lillian Muller
Luana Lani
Malisia Petropoulos
Marla Keeahn
Nicolette-San Sui
Nikita Lea
Nissa
Qiana Chase
Rebekka Armstrong
Scarlett Keegan
Stephanie Heinrich
Victoria Fuller